KOSUN LS Shale Shaker Sending to Xinjiang
Sep 13, 2017
Founded in 1992, KOSUN is based on the Chinese market to provide worldwide users with all kinds of professional solid-liquid separation products and comprehensive treatment services. KOSUN is one of the best Shale Shaker manufacturers in China and is well-known in the domestic and international.

Recently, KOSUN and a oil company in Xinjiang reached a cooperation agreement, they ordered our linear dual shale shakers used in large oil rigs, after several months research and produce, the shale shakers are now ready to send to Xinjiang.

KOSUN linear motion shale shaker is especially effective while drilling top-hole sections where heavy and high-volume solids are usually encountered. In these intervals,shakers may generate powerful G-forces and its effective vibrating motion can quickly remove the dense solids from screens and particles from wells.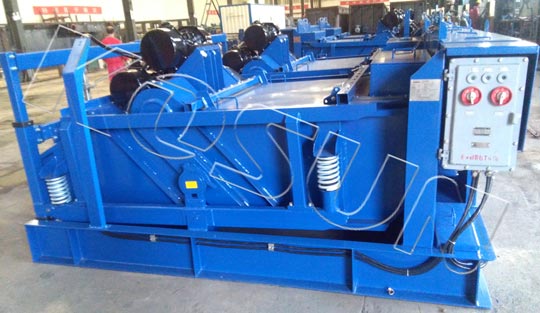 Features and Benefits of linear motion shale shaker:
-G-forces linear motion up to 7.4 G(adjustable depending on the situation)
-Hi-speed conveyance of cuttings
-Higher shaker-fluids capacity
-Able to process heavier solids loads
-Enhances cuttings processing volume
-AWD device from -1°-5°
-Single side screens tension system to easily change the screens
-Shaker feeder can be weir type and header box
-Hook-strip screens can be PMD and PWP screens

Xi'an KOSUN Machinery Co., Ltd. (KOSUN) is a state-level high-tech enterprise integrating environmental products R&D, production and sales, general project contracting and environmental management services.Now, KOSUN mianly research and development products are sludge treatment equipment, tailings treatment equipment , river dredging equipment. KOSUN solids control equipment can be used in oilfield environmental protection industry, environmental sludge treatment, soil repair, piling mud treatment, shield mud separation, non-excavation mud separation and other fields, multi-industry construction. (Editor:Kosun Lily.Wang)