Brief Talk about Recent Economic Situation in Russia
Mar 17, 2015
Russian Ruble has sharply depreciated due to joint sanction by Europe and America. Will the depreciation lead to economic collapse in Russia on earth, thus affecting foreign trade orders in oil solids control industry?
Market specialists from KOSUN Office in Russia believe that Russian economy will enter a recession instead of disastrous collapse. Compared with the economic crisis in 1998, influence of Ruble depreciation this time is not so terrible.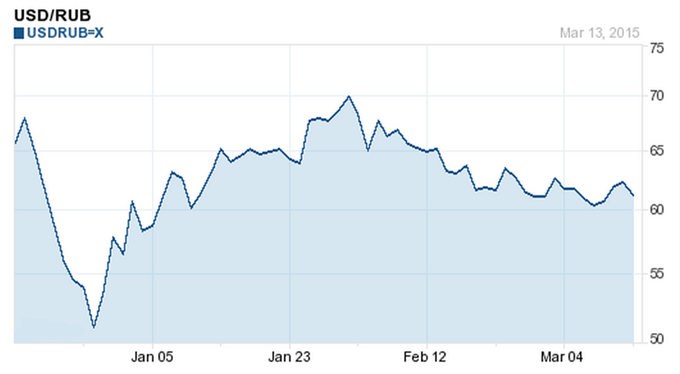 Trend Chart of USDRUB Exchange Rate from January to May, 2015
Chart source: yahoo.com
In 1998, chain influences directly impacted Russian economy under the aftermath of Asian financial crisis. Comparatively speaking, Ruble depreciation this time is not due to these environmental factors. Foreign exchange reserve of Russia in 1998 was only USD 140 billion and now it is around USD 450 billion. Russia is far stronger in strength than those days.
Taking prices of daily necessities in supermarkets as an example, although the prices become higher than before, the rises are not in proportion with Ruble depreciation. Currently, Russia is facing an unemployment wave and most employees are requiring higher wages due to rising prices. However, for enterprises, foreign trade orders settled in USD are confronted with huge economic pressure owing to Ruble depreciation, and layoffs seem to be the only way out. A high unemployment rate increases unstable social factors and the government is endeavoring to control rising prices. Meanwhile, prices in real estate, auto and other industries rise slightly.
Russian government held an Industrial Accessories Exhibition at Moscow International Exhibition Hall from February 17 to 19. As a leading industry in industrial circle, oil equipment manufacturing still presented driving vitality at the exhibition. The hall was packed with exhibitors enrolled for the exhibition, which fully demonstrated Russian enterprises' support to President Vladimir Putin and their confidence for an economic upturn in 2015.