KOSUN Solids Control System Gets into EU market with CE-marking
Sep 27, 2013
On Sept 25th, KOSUN 750HP, 1000HP, 1500HP, 2000HP Solids Control Systems got the passport into EU market after officially going through all the CE conformity assessment procedures.
CE marking is mandatory within European Union market and is necessary for free marketability of the products made both by internal EU companies and foreign companies in EU market since it shows the products conform to all the basic directives subject to "The New Approach to Technical Harmonization and Standardization". Therefore, it has been regarded as a safety mark to consumers and even a passport for manufacturers into European market. CE-marking can ensure products are sold in any EU member nation without compliance with their requirements, thus realizing free marketability of products amongst them.
EU market plays an important role in global oil equipment market. The success with CE application officially knocked the gate of EU market open for KOSUN Solids Control System. It also marks a landmark step on the road of making KOSUN international. As such, it paves the way into EU market for solids control system made by KOSUN.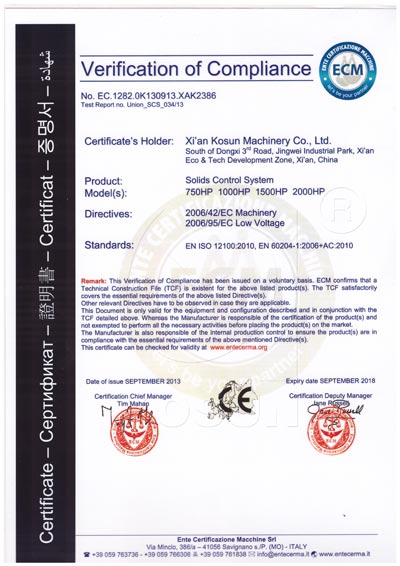 CE Vertification of Compliance